Victoria & Abdul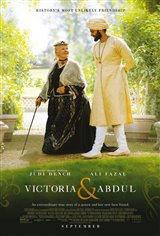 | | |
| --- | --- |
| Score: | 6.93 / 10 |
| Released: | September 29, 2017 |
| Director: | Stephen Frears |
| Producer: | Eric Fellner, Tim Bevan |
| Studio: | Universal Pictures |
| Cast: | Michael Gambon, Judi Dench, Olivia Williams, Eddie Izzard, Simon Callow, Ali Fazal |
| Genre: | Drama |
| Length: | 111 minutes |
write a review | read reviews | watch the Victoria & Abdul trailer

Victoria & Abdul Overview
Queen Victoria (Judi Dench), at the time the longest serving monarch in history, meets a clerk named Abdul (Ali Fazal) when he travels to England from his native India for the Queen's Golden Jubilee — which symbolizes 50 years on the throne. His mission is to present the monarch with a ceremonial coin. 

Although he is warned not to make eye contact with Victoria, the young man can't help himself and looks at her when he approaches the Queen. Thus begins an unlikely friendship between Victoria and Abdul.

Based on Shrabani Basu's book of the same name, Victoria & Abdul: The True Story of the Queen's Closest Confidant. 
Showtimes
Click on a number to locate your theatre on the
map
below