The Island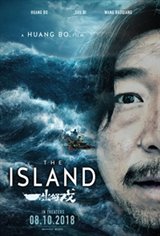 | | |
| --- | --- |
| Score: | 7 / 10 |
| Released: | August 10, 2018 |
| Director: | Huang Bo |
| Producer: | |
| Studio: | Well Go USA Entertainment |
| Cast: | Huang Bo, Shu Qi, Wang Baoqiang, Zhang Yixing, Yu Hewei |
| Genre: | Comedy |
| Length: | 134 minutes |
write a review | read reviews | watch the The Island trailer

The Island Overview
Ma Jin (Huang Bo) and his adopted brother Xing (Zhang Yixing) are two of more than 20 workers whose boss, Zhang (Yu Hewei), decides to have them take part in a team-building exercise. They set out on an amphibious bus driven by guide Dicky Wang (Wang Baoqiang). Also on the team is fellow employee Shan Shan (Shu Qi), on whom Ma has a crush. Unfortunately, Shan doesn't share his affection.

A meteor strike causes a tsunami to strand the bus on a desert island. Cut off from all communication, the team members have to figure out how to survive.

Wang, the guide, uses force to intimidate others into working for him. Some of the workers leave to side with Zhang, who has set up camp on a distant beach. Ma and Xing drift away on their own. Ma has a winning lottery ticket worth 60 million RMB (almost $9 million USD), but if unclaimed, the ticket will expire in 90 days. Realizing there's a very good possibility he won't get off the island in time to cash his lottery ticket, Ma and Xing lure workers into a third camp. Ma also starts to win over Shan, who was initially suspicious of his motives.


Showtimes
(No Showtimes Listings)